Rasberry Liqorice Cheesecake
RASPBERRY LIQORICE CHEESECAKE
I won't keep you waiting anymore! This was a huge success 😋Raspberry and licorice will forever be a genius combination 💯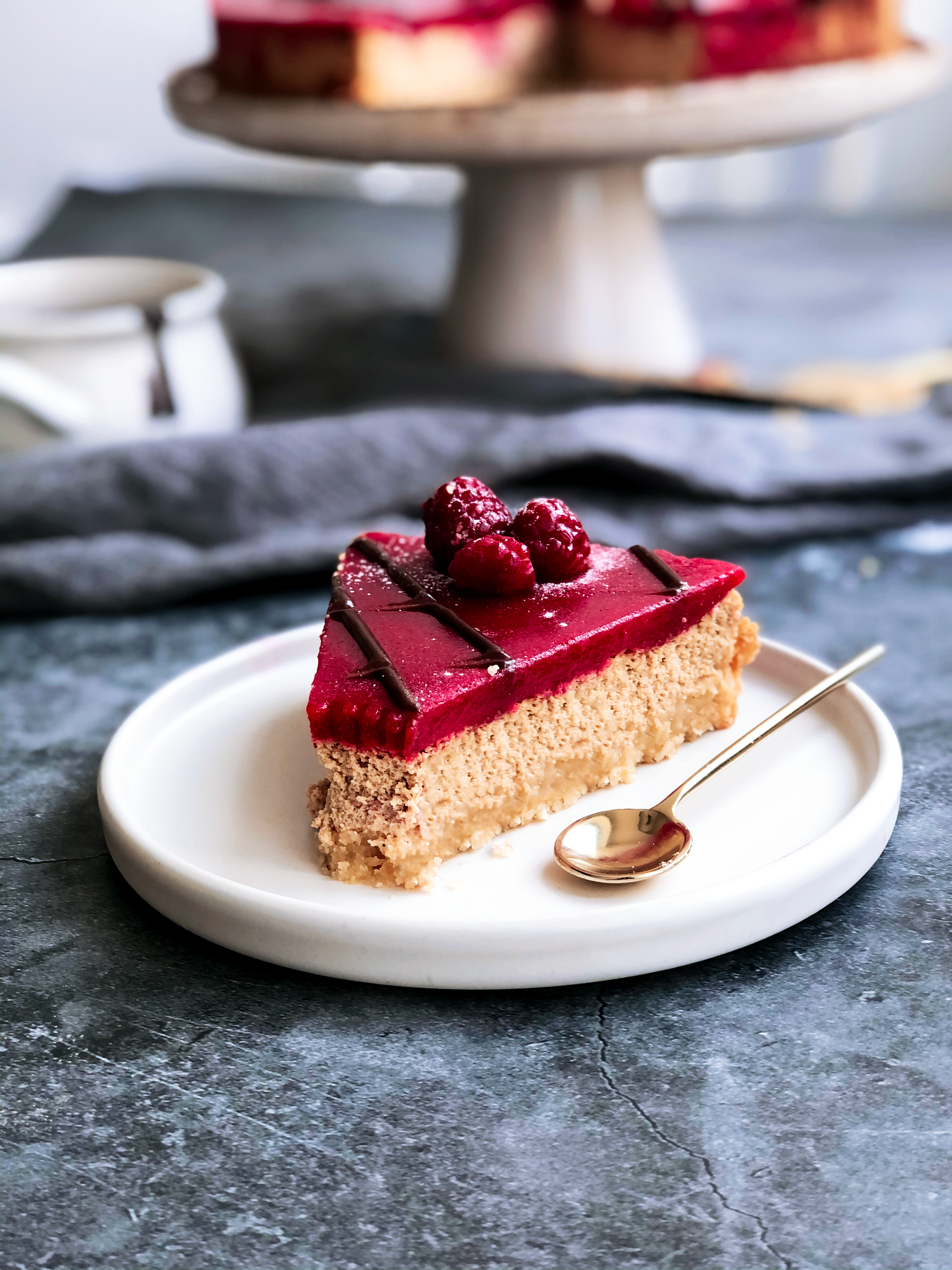 Ingredients
Crust:
1 2/3 cup (4 dl) almond flour
2/3 cup (1,5 dl) shredded coconut
3 tbsp erythritol
(100g) butter
Filling:
400g cream cheese
2 egg
1/3 cup + 2 tbsp (1 dl) erythritol
1 tsp vanilla extract
2 tbsp licorice powder
1-2 scoops of our MCT powder (unflavoured)
Topping:
350g frozen raspberries
Juice from 1 lemon
1/2 cup (1 dl) water
2/4 cup (1 dl) erythritol
2,5 gelatine sheets
25g butter
Chocolate licorice sauce:
2 tbsp cocoa powder
1/2 cup (1 dl) cream
1/4 cup (0,5 dl) milk
4 tbsp erythritol
2-3 tsp licorice powder
30g 90% dark chocolate
Pinch of salt
Instructions
Set oven on 347°F / 175°C

Mix ingredients for crust. Cover the bottom of a round baking tin. Bake for 8-10 min. Let cool.

Mix eggs, erythritol and vanilla with an electrical mixer until fluffy. It takes about 10 min. Don't go lazy here, the fluffiness is important.

Mix in the cream cheese. Then mix in the licorice powder. Start with 1 tbsp and taste, then add the other one if you want. The licorice taste gets a bit less after baking so you might need more than you think.

Pour the mix on the crust and bake in the oven for about 30-40 min. Take out and let completely firm up in the fridge for about 1-2 hours.

Raspberry layer: Let raspberries boil up in a saucepan. Remove and use a strainer to press out all the juice. Use a spoon to really get all liquid out.

Soak the gelatin sheets in cold water for 5 min. Add everything but gelatin and butter to a saucepan. Stir until boiling. Add the gelatin sheets and stir on medium heat for 2 min.

Add butter and whisk for a few seconds and remove. Let cool.

When the cake is really firm, pour the cooled sauce over the cake. Its really important that the cake is firm otherwise the sauce will blend with the cake.

Let firm in the fridge. Takes about 30 min.

Add erythritol, cocoa, cream and milk in a saucepan. Stir until boiling. Let simmer on low heat for 2-3 min. Add licorice and dark chocolate. Stir for another min. Remove and cool. Add to a plastic bag, cut a whole and decorate the cake. Enjoy!

Written by Camilla Henriksen Founder The Friendly Fat Co. Keto nerd and health hacker.