Apple Pie
A moist buttery Apple cake topped with pie crumbles. Serve it with ice Cream, whipped cream or vanilla curd.

Apples are not really keto but If you only use smaller amounts like this in a cake the total amounts of carbs per serving will be pretty small. Halleluja 🙌

I added a Fat-Pack nutbutter in the pie crumble for an amazing flavor. The cinnamon in the nutbutter goes so well with the apples here. But If you dont have it you can just skip it 😊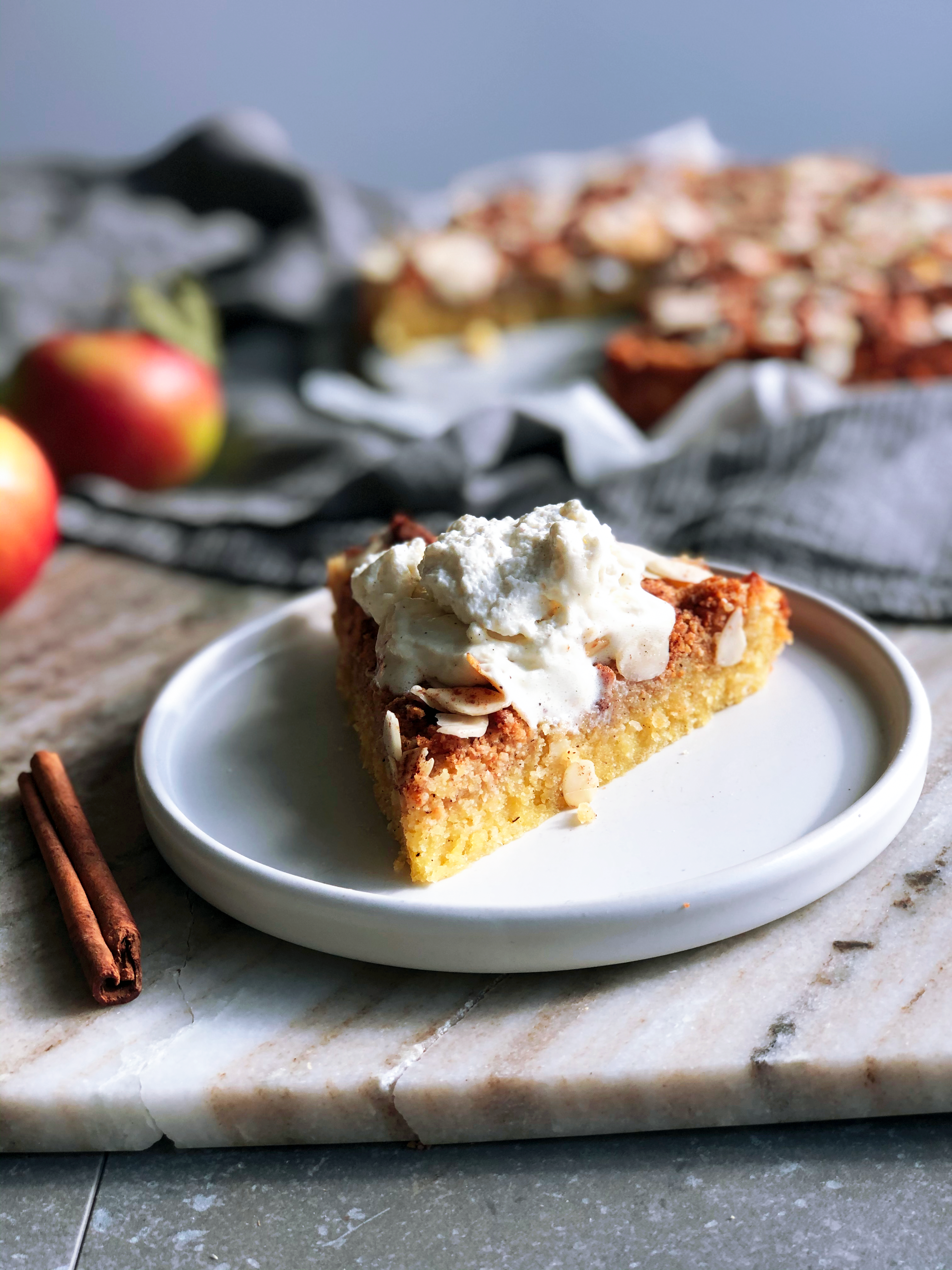 Ingredients
Cake:
1 apple
175 g butter
1/2 cup (1 dl) erythritol
1/4 cup (0,5 dl) brown sugar replacement (I use Sukrin Gold)
1 tsp bourbon vanilla bean powder
3 egg
1 cup (2,5 dl) almond flour
1/2 cup (1 dl) coconut flour
0,5 tsp cinnamon
0,5 tsp cardamom
Pie crumble:
50g butter (room temp)
1/2 cup (1 dl) almond flour
2,5 tbsp erythritol
1/2 cup (1 dl) coconut flakes
1 pouch Fat-Pack nut butter (40g) from @friendlyfatcompany
0,5 tsp bourbon vanilla bean powder
Topping:
Cinnamon
Almond flakes
Instructions
Set the oven on 374°F / 175°C

Shred half an apple fine and add to a bowl.

Melt the butter in a sauce pan. Let cool and pour over the apples. Add the rest of the ingredients for the cake and blend together with a large spoon.

Pour the cake in a round oven form. One that you can open on the side.

Slice half an Apple and press down in the cake.

Add all the ingredients for the pie crumble in a bowl and mix well with your hands. Cover the cake with crumbles.

Sprinkle some cinnamon and cardamom on top. Bake in the oven for about 30-35 minutes.

Written by Camilla Henriksen Founder The Friendly Fat Co. Keto nerd and health hacker.
More recipes using Nutbutter