Cookie Dough Snickers Bars
30 minutes
Might be the most delicious low carb keto snack ever made. No sugar, and gluten free with lots of energy to fuel your day! Perfect to bring when you're on-the-go and it's super satisfying. We promise you, it's super fast and easy to make.
Macros per bar: 380 calories, 3g ner carbs, 33g fat, 10g protein.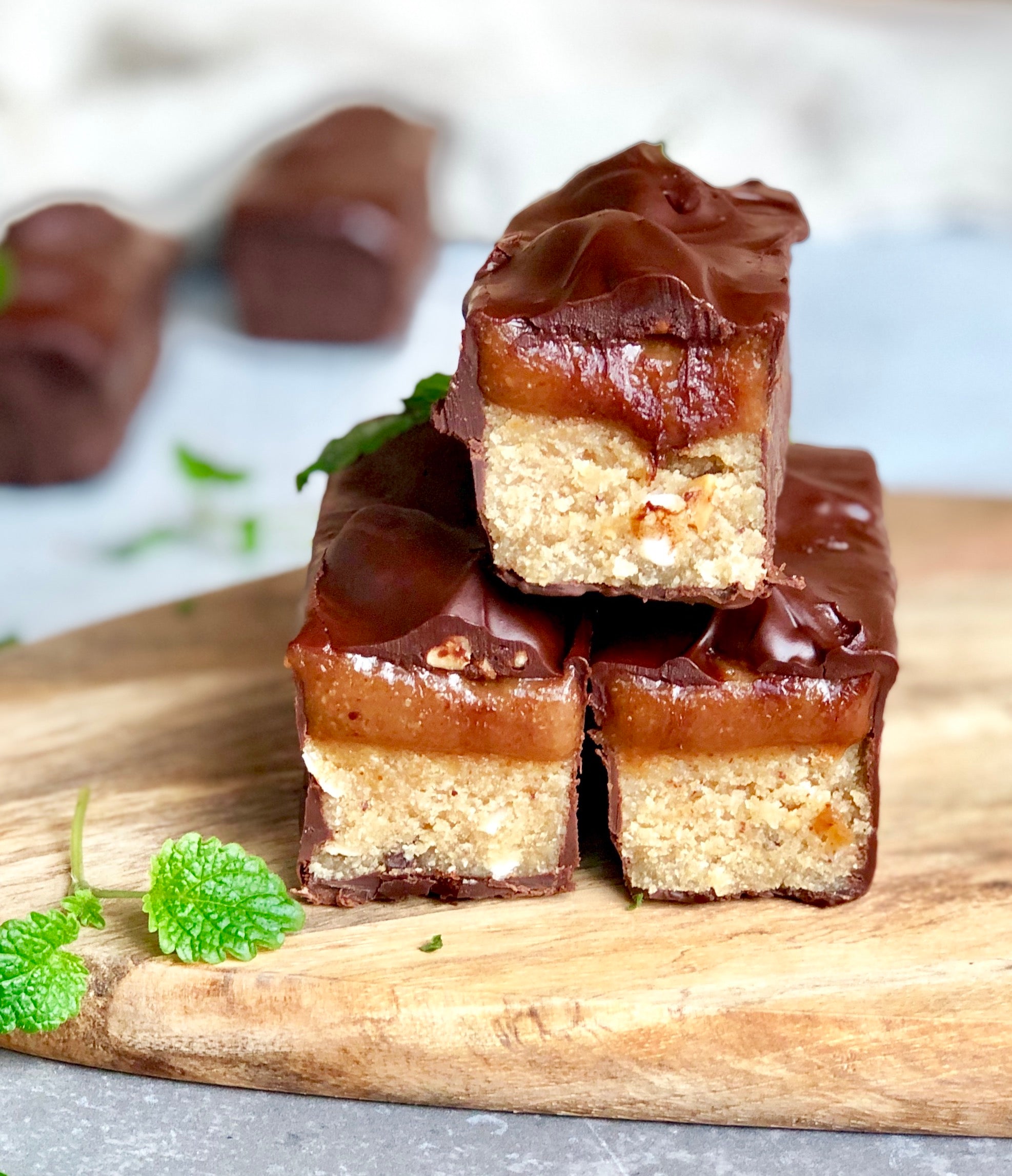 Ingredients
COOKIE DOUGH LAYER:
3/4 cup (1,8 dl) coconut flour
1 cup (2,4 dl) almond flour
3 tbsp sugar free syrup
2 tbsp butter
3 tbsp crunchy peanut butter (we added our nutbutter)
1/2 cup (1,3 dl) erythritol
3 tbsp milk
1 oz. (30g) dark sugar free chocolate
CARAMEL LAYER:
1/2 cup (1,2 dl) almond butter
1/4 cup (0,6 dl) coconut oil
1/2 cup (1 dl) sugar free syrup
3 tbsp cream
0,8 oz. (20g) butter
1 tbsp erythritol
1-2 scoops MCT (Hot chocolate)
COVER:
Pecans
2,5 oz. (80g) dark sugar free chocolate
Instructions
Mix all ingredients for the dough layer in a bowl. Chop the chocolate pieces and blend in.

Line a bread pan with baking paper and spread the dough evenly in the bottom and put in the freezer while preparing the caramel.

Caramel: Use a microwave safe bowl and add almond butter, syrup, coconut oil and heat in the microwave until coconut oil has melted. Blend and add cream, butter, MCT and erythritol and heat again until melted. Blend everything well.

Pour the caramel on top of the cookie dough layer and put in the fridge until it's hard.

Take it out of the pan and turn it upside down with the dough layer facing up. Spread melted chocolate on top. It will get hard pretty fast since the dough is frozen.

Cut into bars. Press two pecans on top of the caramel layer and dip the rest of the sides in the melted chocolate. This can get pretty messy so use your fingers or do whatever you need to get them covered. Place in fridge and your done! 💪🙌

Written by Camilla Henriksen Co-founder The Friendly Fat Co. Keto nerd, food blogger and health hacker.
More recipes using Nutbutter