Sugar Free Chocolate Peanut Butter Ice Cream
8 servings
30 minutes
Ice cream on keto? Sugar free and low carb?
Oh yes it's for real! So go head, eat ice cream while staying in ketosis. And the best part, you don't need an ice cream machine for this one!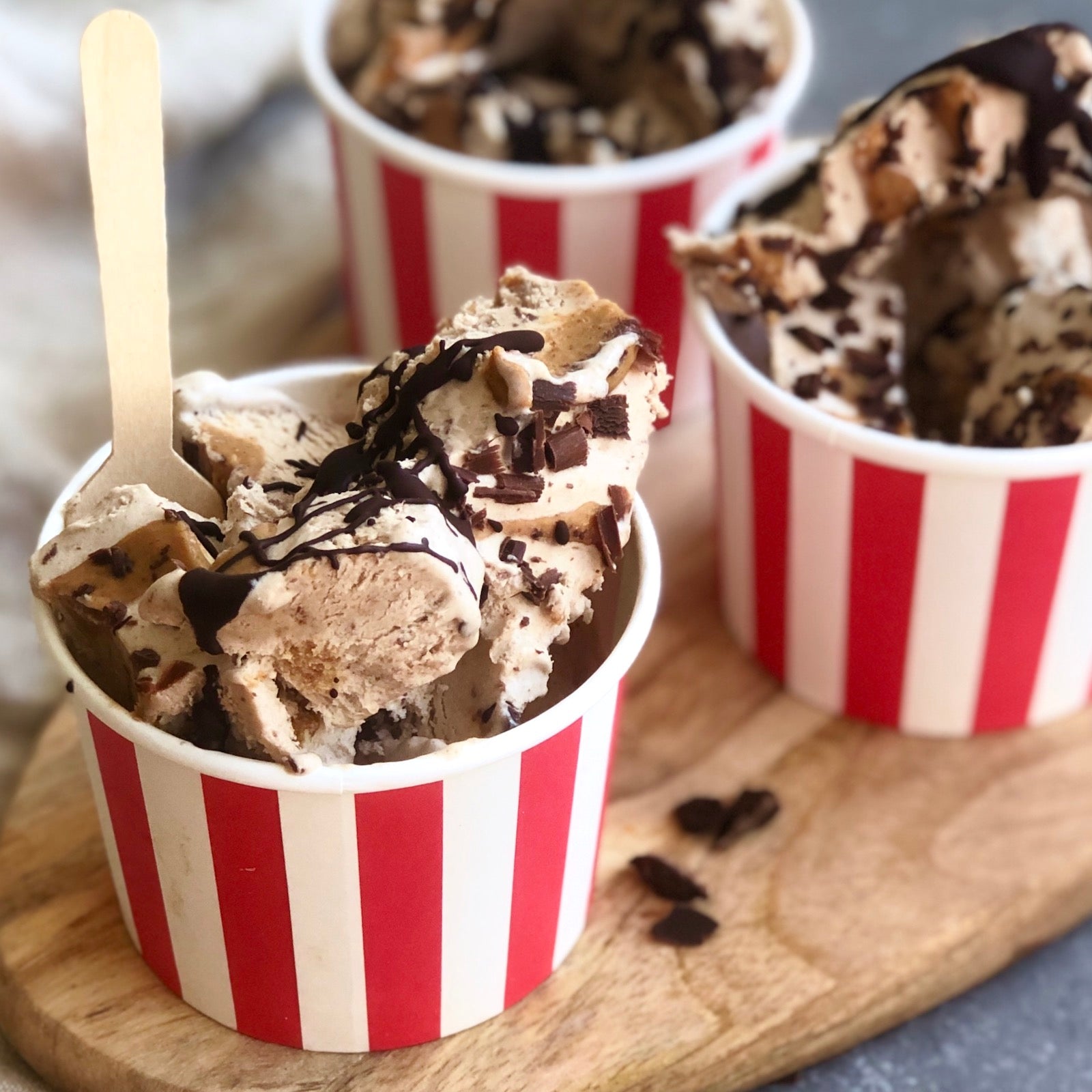 Ingredients
ICE CREAM:
2 cups (5 dl) heavy cream
3 egg yolks
1/3 cup (0,8 dl) erythitol
2 tbsp melted sugar free chocolate
3 tsp cocoa powder
3-4 tbsp peanut butter
Optional: chucks of peanut butter cheese cake dough
PEANUT BUTTER CHEESE CAKE DOUGH:
1/4 cup (0,5 dl) peanut butter (we used our fatspread nutbutter)
2 tsp butter
2 tbsp cream cheese
1 tbsp erythitol
Instructions
ICE CREAM:
Add egg yolks and erythitol in a bowl. Mix with an electriacal mixer until as fluffy as it can get. Around 8-10 minutes.

In a separate bowl, mix cream until light whipped. Should be fluffy not heavy whipped.

Mix the melted chocolate and cocoa powder.

Slowly blend cream into egg yolks with a large spoon. You want to keep as much air as possible.

Carefully blend the peanut butter into the mixture but only one tbsp at a time. Don't do it perfectly, you want to find swirls of peanut butter. :)

Pour the mixture in a jar of some kind and put in the freezer overnight.
PEANUT BUTTER CHEESE CAKEDOUGH:
Add all ingredients in a bowl and mix with an electrical mixer until fully blended and put in the fridge for 10 minutes.

Written by Camilla Henriksen Co-founder The Friendly Fat Co. Keto nerd and health hacker.
More recipes using Nutbutter